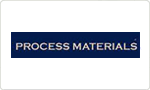 Process Materials, Inc. is a global supplier and manufacturer of sputtering targets, evaporation materials, backing plates, backing tubes, and bonding services for the thin-film deposition industry. PMI offers planar and rotatable sputtering targets using materials such as AZO, ITO, CuIn, Chromium, Molybdenum, Titanium, and Silicon, among others. PMI combine its expertise with the advanced rotatable cathodes developed by sister company, Sputtering Components, Inc., and offer you a unique solutions for thin-film deposition and rotatable sputtering target applications.
Founded in 1998, Process Materials has earned a global reputation for its commitment to quality and service where trust is as important as technical knowledge. PMI focuses on providing and perfecting the highest level of product performance. Whatever your requirements are, R & D, pilot or full-scale production, you can depend on Process Materials to provide materials of the highest quality.
Process Materials has become a leading provider of materials by supplying customers with superior quality and consistency-targets known for dependability. PMI's customers know they will receive targets produced to their exact specifications, delivered on time and every time.